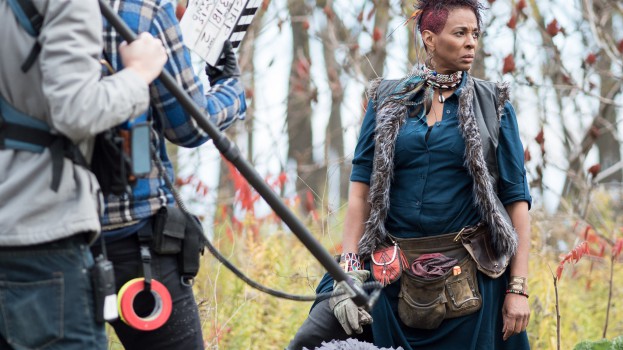 Production has wrapped in Toronto on writer/director Sharon Lewis' feature film debut Brown Girl in the Ring: The Prequel.
The feature, based on a Nalo Hopkinson's novel Brown Girl in the Ring, is produced through Lewis' urbansoul Productions. Producing alongside Lewis are Freddie Films' Floyd Kane and coproducers Vince Buda, Jenn Paul and Kulbinder Saran Caldwell.
The film was involved in TIFF's 2015 Pitch This! competition, and though Brown Girl did not win the $15,000 prize, Lewis said the exposure of the contest was instrumental in getting the project's executive producers Strada Films involved, which in turn made some of the logistical aspects easier to secure with Strada's connections.
Filming took place over 15 days in total, concluding on Saturday, with Lewis hoping to have post-production wrapped and a rough copy ready by March.
Starring Mouna Traoré (Murdoch Mysteries), Emmanuel Kabongo (Quantico), jazz and blues performer Shakura S'Aida, Nigel Shawn Williams (Heroes Reborn) and Rachael Crawford (This Life), the film's budget is between $200,000 and $275,000.
Set in a post-apocalyptic Toronto in the year 2048, Brown Girl in the Ring: The Prequel follows the story of Ti-Jeanne, who must choose between a birthright that gives her vast but dangerous powers over otherworldly spirits or a 'normal' life where her love for Tony can thrive.
Executive producers on the feature are Strada Films' Sandra Cunningham and Robin Cass.
Read more: http://playbackonline.ca/2015/11/16/production-wraps-on-brown-girl-in-the-ring/#ixzz4fnFwlf4C